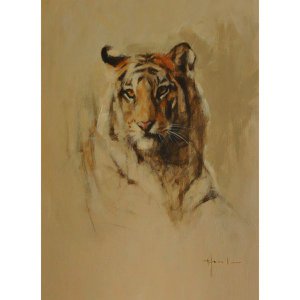 LOT 16
ATSU HARADA
Category: Cats
A Young Bengal Tiger

Oil on Board

29 cm x 42 cm

Unframed/unmounted. Signed. Donated by Artist.
Two-time category winner at the DSWF Wildlife Artist of the Year competition, and 2018 recipient of the Western Art Collector magazine award at the Society of Animal Artists' annual show.
I chose to portray a young tiger in this piece to express my hopes for their future, that they will survive.
This artwork has been framed for our UK tour. The successful bidder will be given the option to buy the piece framed for an additional £15 (A4) or £20 (A3) to the hammer price
2084821
Bidding Ended :
Sunday, 17 November 2019 18:31:00