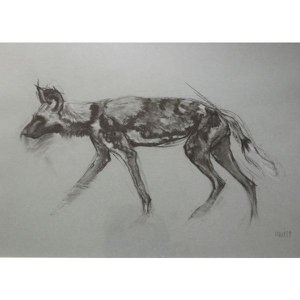 LOT 21
HEATHER IRVINE
Category: Canines
Painted Dog Sketch

Charcoal and Chalk

29 cm x 42 cm

Unframed/unmounted. Signed. Donated by Artist.
Contemporary movement based wildlife, equestrian and canine artist working in oils, charcoal and acrylic. Heather has also donated Lot 52 - this Lot replaces the catalogued one.
For the past six years, Heather have been a shortlisted finalist at the David Shepherd Wildlife Artist of the Year exhibition at the Mall Galleries, London, and a finalist for BBC Wildlife Artist of the Year having been the overall winner in 2012.  She tries wherever possible to donate to conservation with my work.
This artwork has been framed for our UK tour. The successful bidder will be given the option to buy the piece framed for an additional £15 (A4) or £20 (A3) to the hammer price
2084826
Bidding Ended :
Sunday, 17 November 2019 18:41:00