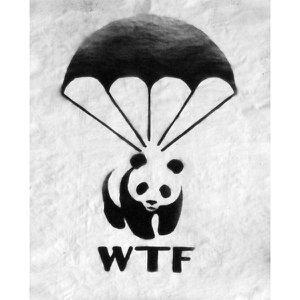 LOT 67
JUAN SLY 2
Category: Bears
WTF

Spray paint and Stencil

56 cm x 76 cm

Sent rolled. Signed. Donated by Artist.
Juan Sly is Urban Pop Art artist doing his stuff in mainly spray stencils and oils. Sly likes to take images from popular culture of today and yesterday and create a new concept that says something to the audience of today. Sometimes serious sometimes fun or both: he has lived a weird life which explains a lot!
He is particularly fond of the stencil medium atm, as it allows him to quickly respond to events and gives the work that gritty, illegal look. The stencils naturally allow the works to be resprayed and so become affordable and disposable. And in doing so he is striving to make art inclusive and embracing to those who find the art gallery and its culture of superiority and exclusion too much to bear. As a consequence they, and the rest of the"Art Policetend to give him a lot of culture shit. So Sly exhibits, with a few exceptions, on the internet; and so allow the art galleries to continue to exhibit overpriced expensive bollocks, to people who want something to match their curtains….and…breath…
2084872
Bidding Ended :
Sunday, 17 November 2019 19:57:00