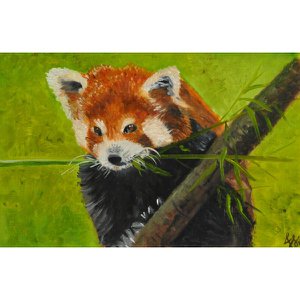 LOT 70
JYOTI SETHI
Category: Other Mammals
The Red Panda

Oil

21 cm x 29 cm

Unframed/unmounted. Signed. Donated by Artist.
Jyoti is an Dubai-based Indian artist who primarily works in Oils. She is very passionate about the environment.
The Red Panda is a small, arboreal mammal. Its cute and innocent face drove me to paint it. Its hard to believe that is is endangered.
This artwork has been framed for our UK tour. The successful bidder will be given the option to buy the piece framed for an additional £15 (A4) or £20 (A3) to the hammer price
2084875
Bidding Ended :
Sunday, 17 November 2019 20:00:00