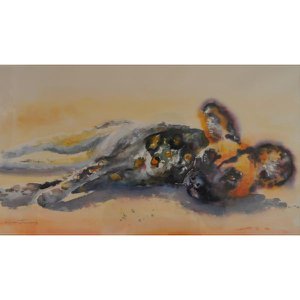 LOT 72
KAREN THOMAS
Category: Canines
Repose

Watercolour

94 cm x 67 cm

Framed. Signed. Donated by Artist.
Karen is an award winning contemporary artist based in the South West,specialising in nature-inspired and wildlife paintings. Her work is represented by galleries across the UK. Her paintings have graced venues run by institutions such as the National Trust and the RHS.
It's all about the way the vision in my head finds its way onto the paper – painting different subjects develops an 'extra eye' and helps to get my work spot on.
2084877
Bidding Ended :
Sunday, 17 November 2019 20:02:00