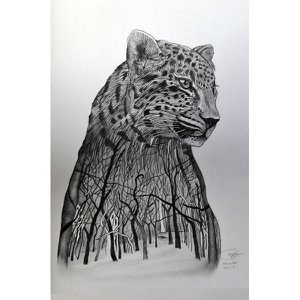 LOT 108
PAUL KINGSLEY SQUIRE
Category: Cats
Amur Leopard

Pencil

29 cm x 42 cm

Unframed/unmounted. Signed. Donated by Artist.
Paul Kingsley Squire has created a diverse portfolio of contemporary artwork  through oil painting, intricate drawings and digital pen & tablet. He is fascinated by themes of metamorphosis and transformation, working in series around themes to create a range of different works: from digital on plexiglass to pencil on paper to oil on canvas.
The Amur leopard (Panthera pardus orientalis) is a leopard subspecies native to the Primorye region of southeastern Russia and northern China. It is listed as Critically Endangered on the IUCN Red List. In 2007, only 19–26 wild leopards were estimated to survive in southeastern Russia and northeastern China. It was considered as one of the rarest cats on Earth.
This artwork has been framed for our UK tour. The successful bidder will be given the option to buy the piece framed for an additional £15 (A4) or £20 (A3) to the hammer price